Shopping Cart
Your Cart is Empty
Thank you for your business!
You should be receiving an order confirmation from Paypal shortly.
Exit Shopping Cart
Thinking Party? Think SplashTags! Made in the USA.
SplashTags were created as a fun way to apply a distinguishing mark (or tag) to houseware items with glossy, smooth surfaces. Their primary purpose is for tagging beverage glasses, however they can be used on plates or virtually any glossy, smooth surfaced object. They serve a similar purpose as wine glass charms, however since they can be placed anywhere on a glass they are more universally useable on a variety of glasses (such as stemless wine glasses) or other objects. Think of them as Über wine charms.
SplashTags are designed to be artful, dignified, and entertaining, offering the possibility of an ice-breaker or conversation piece. Give your guests something to have some fun with!
SplashTags are specially treated, reusable stickers/decals available in multiple and growing numbers of patterns. The tags are made of a durable vinyl material that is coated with a special finish to provide an interesting tactile sensation. The adhesive is engineered to be removable and remains on the sticker through several uses. They won't leave a gummy residue on your glass after removal. After use SplashTags can be stored on the original sheet, or adhered to the backing board included in the package.
SplashTags come in sheets with 12 individual images on each sheet. We currently have 7 unique sheets, where no 2 images are the same between any sheet.
When planning your next party, don't forget to put SplashTags on your shopping list. SplashTags are a great multi-purpose alternative to wine charms. They work on stemless, and stemmed wine glasses as well as any other smooth surfaced glass or cup. Unlike wine charms they will survive the dishwasher.
Thinking Party? Think SplashTags!
SplashTags make a great, quick gift idea, especially for those folks that take hosting parties to a new level. They also make great stocking stuffers for Christmas or a nice extra to add to your holiday cards. Order today to make sure you have them in time!
With 7 patterns to choose from and 12 unique pictures per pattern, it's easy to find a SplashTags set to complement your party!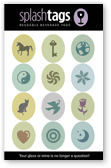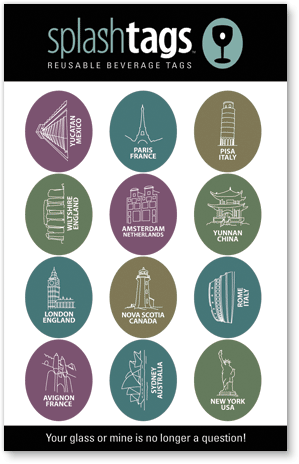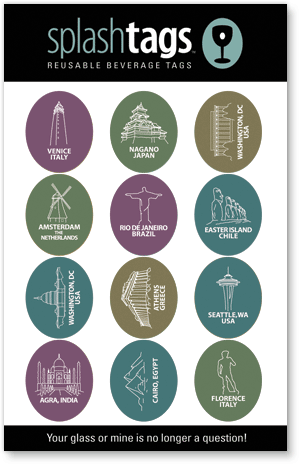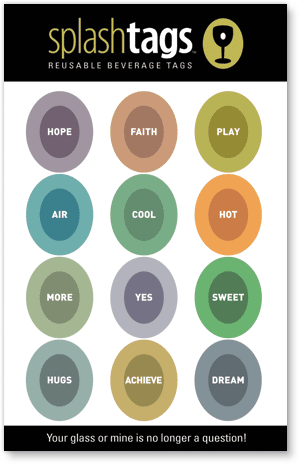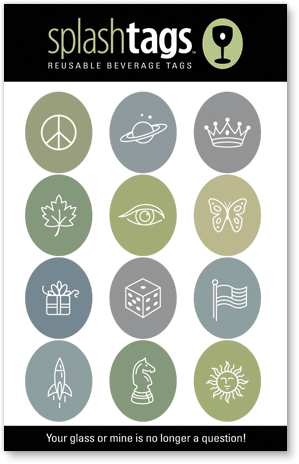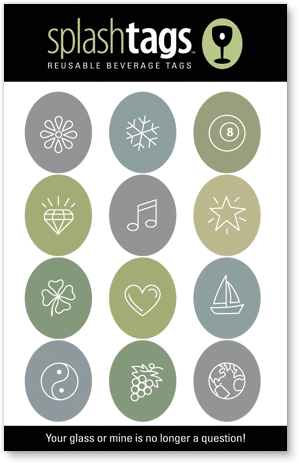 SplashTags, the Artful alternative to jingly wine charms
SplashTags are made in USA
/